Haha, I cracked my head trying to write a creative post dedicated to my roommate cum fellow blogger, Suzane (aka Sparklezane). This CNY, we both decided to do something for one another. Her idea was to exchange gifts, mine was to exchange blog posts, since we were both awesome bloggers. Anyway, I really wanted to write something special that in the end I didn't write anything whilst my dear roommate has already posted hers. *Guilty*


P.S. Suzie, there are not going to be lots of photos spam here, lol. Since I lost most of my 1st and 2nd year pics when I got my laptop reformatted. I hope you like this post as much as I like writing it:)
****************
I
n the month of July 2007 was the day I became a grown-up, in the sense I actually achieve my goals of entering a university. I had a lot of expectations in myself and I told myself not to be an introvert anymore. I don't want to be that shy girl anymore, so I brainwashed myself to try and smile and be sociable with as many people as possible. But imagine my shock when I realized that all the Chinese in UKM spoke Mandarin. Maybe I lived in KL for too long, I really thought every Chinese out there can speak English and Cantonese. I guess I was too naïve. The 1st week, I struggled so much to overcome the language barrier. At the back of my mind, I was thinking how the hell am I going to survive 4 years here in UKM? I was so tempted to quit my university life and join my fellow form 6 friends in private uni, at least in my mind, I thought that I can stay in the comforts of my own house, instead of being confined to a run-down hostel, surrounded by people I can hardly communicate with.
The day I discover the connecting balconies between Block J and G is also one of the best things that ever happen in my 1st year life, because it meant that I can go and constantly annoy and pester Suzane 24/7. Haha. My room is so awfully hot and back then, my KT roommate and I hardly exchange any words between one another. So I go over to Suzane's room and chat with her roommate so frequently, my coursemates sometimes go to Suzane's room to look for me. LOL. It was also great that she is a fellow English-ed like me (although only 1% of UKM population knows that), because it meant that she can understand the situation I am in. And it was also great that during my 1st year when I had such difficulty bonding with my coursemates, I knew I always had 2 of my friends that I can lean on and confide my problems in. I think 2 of them were the only reasons I ever survive 1st year.

In 2nd year, it was mainly my idea that 3 of us become roommates in Setapak. Honestly back then, there were no one I wanted to be roommates with except with 2 of them. So although they were hesitant at first, I am glad the plan finally fell through. Just like every great friendship out there, the 3 of us have our ups and downs, our fights and hugs, and along the way I think we only grew to know each other better. I am basically, I confessed, a very difficult person to live with. My worst trait is my temper and I have never live with other people before, unlike my fellow 88ers' (and 89ers') who spend 1 year in matriculation on their own. I am just glad and grateful that we can survive 3 years with each other without anyone threatening to kill, move out or commit suicide (LOL).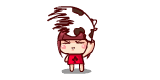 Honestly, if I were to list down every single activity involving Suzane Mah Nyuk Fung, I think this post will be never-ending. But some of my best moments are definitely the places we go. With Suzane and BB, we travelled to Penang, Sarawak and Singapore. Not to mention endless shopping malls, even Bangsar Village and One Utama. Anywhere I go with them will always be fun, because they bring smiles and laughs to everyone. I just wish we can have more time to go out more often now:)